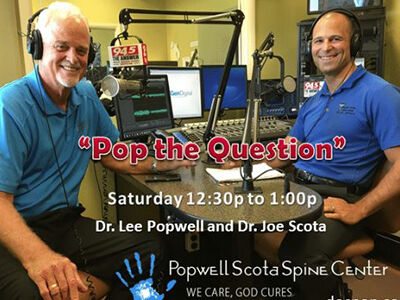 Located in Greenville, SC, the Popwell Scota Spine Center is committed to helping you achieve your health care objectives through skill and expertise that spans the entire chiropractic wellness spectrum.
Patients seeking help from Drs. Lee Popwell and Joe Scota are assured to receive the appropriate treatment for their needs. Whether through traditional hands on chiropractic care, non-surgical spinal decompression, or advanced soft tissue techniques such as Active Release Techniques (A.R.T.) or Graston, patients have flexibility in treatment for pain relief as well as preventative wellness.
To learn more about the chiropractic care options offered at Popwell Scota Spine Center, visit our website and tune in every Saturday from 12:30 – 1:00pm on 94.5 WGTK The Answer!