How to Help Your Child in School During COVID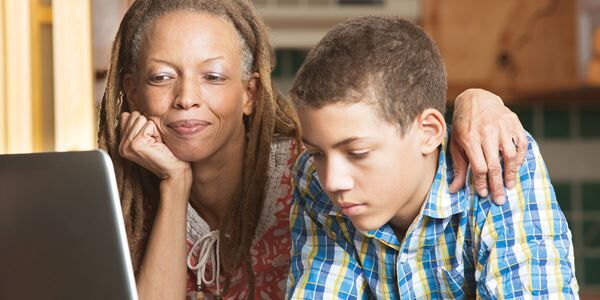 The start of a brand-new school year is always a mix of excitement and anxiety, but in the era of COVID-19, the start has brought more anxiety than anticipation. Whether your child is doing virtual school, staggered schooling, or going to school five-days a week, things will look radically different for everyone. Kids will have a lot of change to navigate through, which can be difficult at any age. Here are some tips we got from UNICEF on how you can help your kid's mental health during this trying time.
Explain the Importance of Face Masks and Hand Washing


Kids going back to school are having to wear a whole new wardrobe and many younger children will be confused about why they will have to be wearing masks along with their new backpacks. Experts say that it is important to be honest with the child about why they will need to wear masks. Explain that it helps stop the spread of disease and emphasize the importance of keeping the mask on. Children will be more likely to follow the guidelines if they know why they are in place.

Help Them Be Flexible


The truth is that no one knows exactly what this school year is going to look like. You need to stress to your kids that things could change and help them prepare for those changes. However, you can also remind them that this will not last forever and that they will one day be in the classroom with their friends. This keeps their spirits up and reminds them that this uncertainty is temporary.

Keep Them Calm


The biggest thing that will help children succeed this school year is if they stay calm and relaxed. Be sure that you are communicating with your child so that you know how they are coping with their schooling. School can already be stressful enough, and with these new guidelines, routines, and technologies, it can be very easy for a child to get overwhelmed. Talk with child daily to make sure he or she is keeping up with school and are staying calm.

Don't Complain


Look, nobody is happy about school right now. Parents are frustrated, teachers are overwhelmed, and everybody has their own idea on how schools should be run. It is okay to be upset, just make sure you don't voice those feelings to your children. Children can pick up when we are not happy, and if we complain they are likely to copy us and complain as well. That is why it is important to stay positive for our kids. The situation is already bad, we don't want to make it worse.
There is a lot of "unknowns" about the future of school, but that doesn't mean your child has to descend into chaos. Read about these tips and more on UNICEF's website here.