Explore GSP at Your Next Flight!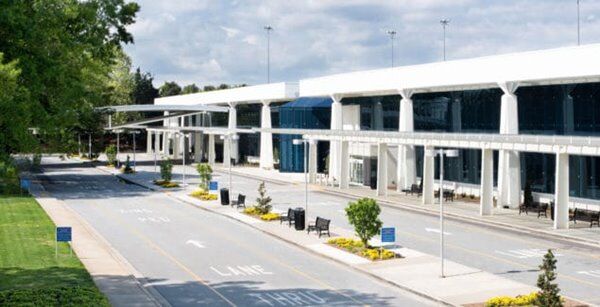 As I look forward to flying out of our beautiful GSP airport later this week, I was reminded via email by United Airlines to arrive at the airport at least two hours ahead of my departure time. At GSP, parking, getting thru security and finding your gate is a breeze. Now what? Face it, we can only sit on our backsides checking email and wandering social media for so long.
Well, let's explore the wonders of GSP. While this may not rival a Nat Geo travel experience, it'll make that wait a bit more enjoyable and even educational.
So, I enlisted my good friends, and great partners of our Salem Media radio group, Tiffany and Tom at GSP to help me write this blog. Here are six things to do/explore at GSP International Airport while waiting for your flight:
With a group of family/friends? Need to start your trip with a selfie. Relax in the Airside Garden. Before you board a long flight, enjoy some fresh air and do a little plane spotting. The Airside Garden is the most photographed spot in the airport!
Grab a cold beer and watch sports! Head over to either RJ Rockers Flight Room on Concourse B or Thomas Creek Grill on Concourse, both very nice local Upstate establishments. Even more inviting, GSP even has its own, and very tasty, themed beer called Flight Line that's available at the RJ Rockers Flight Room. Go Tigers!
How about some culture? Explore GSP's art program, yes art at an airport, only at GSP! Everywhere you look (including the floors!) there is unique and beautiful pieces of art that represent the spirit of the Upstate. The art at GSP falls in to one of three themes: where we've come from, where we live and where we are going. For a sneak preview check out this flipbook showing the airport's art collection. https://www.gsp-airport.net/
Shopping! Save room in your carry-on bag and increase the limit on your credit card. Hudson News has everything you forgot to pack and everything that you didn't even know you needed. Impress Grandma with Greenville and Spartanburg shirts, mugs and keychains and unique items for fans of the Clemson Tigers, Greenville Drive and Greenville Swamp Rabbits.
Time to "Shine". Stop by the Palmetto Distillery for some sweet South Carolina moonshine. Can't choose between original, peach, apple pie or blackberry? If you are 21 or older, ask for a sample to help you decide!
Escape to world class dining!
The Kitchen by Wolfgang Puck, which was recently named as one of the best airport restaurants by USA Today readers, beats pretzels and canned soda any day. GSP is one of only two airports in the United States to have the restaurant concept by celebrity chef Wolfgang Puck.
Visit The Escape Lounge, with complimentary menu items created by the Rick Erwin Dining Group, drinks and a cookie bar (yes, that is correct a COOKIE BAR), the lounge offers a relaxing start to your next trip. American Express Platinum Card members receive complimentary access to the lounge. The fee to enter the lounge ranges from $25-45.
GSP International Airport is one of the many gems that make living in the Upstate amazing. What is your favorite thing to do at GSP? Feel free to post comments and photos.